Remembering your passwords for all of your accounts is easier than you think. A good password manager will keep everything on file and be your first line of defense against being hacked.
Just like managing passwords, creating strong password combinations is not a breeze. Having your pet's name or your date of birth as a password might be easy, but it puts your data at risk of being stolen (such a password isn't hard to guess). Hence the need for a password generator tool arises.
What Is a Strong Random Password?
A strong password has two key properties: length and entropy.
The length of the password affects how long it takes to crack. Longer passwords take longer to crack because there are more individual bits. A shorter password is easier because it has fewer passwords. A longer password is stronger.
But some services use a passphrase instead of a password. All additional characters increase the difficulty. A second consideration is password randomness, also known as entropy. It describes the randomness of the password generation process and the resulting password. For example, like an 8-digit password
12345678
This is significantly weaker than an eight-character password like this
786A@Z#?U
Because of the difficulty in decomposing the individual letters in the correct order.
The higher the entropy, the more random the password and the harder it is to crack.
Read More: Digital Document Tips: 3 Reasons for Converting Word to PDF
What Is A Password Generator?
Reports of online hacking involving password theft are ever increasing. Depending on the hacked account or website, the consequences can be unimaginably dire.
Losing the password for your social media account like Facebook or Twitter is bad enough. But hacking your e-commerce website password can be disastrous. At the very least, you could lose thousands of dollars, important information, or both.
Sadly, many victims of cybercrime are creators of their own destiny. When you don't do your due diligence to choose a strong password, you automatically become a soft target for cybercriminals.
However, choosing a strong password is no walk in the park. Experts advise using a combination of letters and numeric values, as well as making sure the password is as long as possible.
You can put yourself through the rigorous process of creating a strong password manually or use special tools called password generators. Password generators are designed to generate random and secure passwords, ensuring maximum online privacy.
This post shall review the best password generators to create strong and hard-to-crack passwords. Take a look at the following list of password generators to know which one would suit you best for a strong random password if you are going to use an online tool.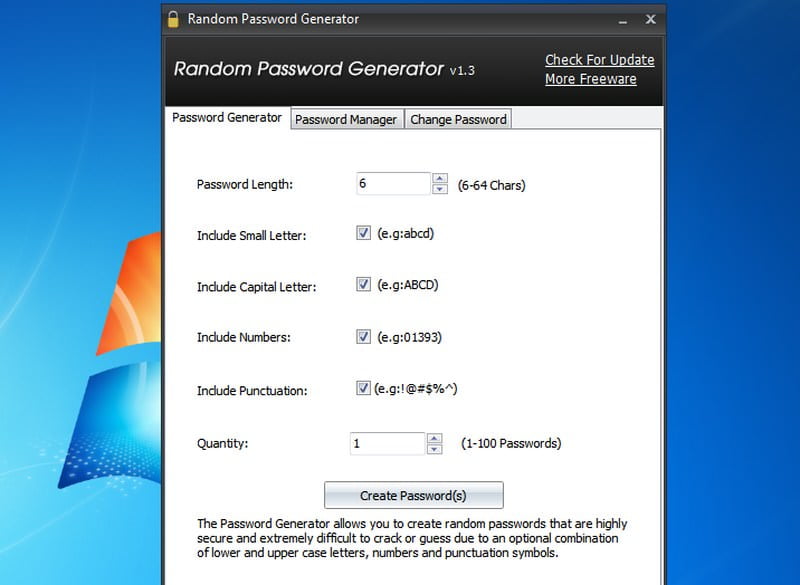 An easy to use random password generator was designed by the popular PC software company IObit. You can easily generate up to 100 passwords with configurable settings. Random Password Generator allows you to create strong passwords of up to 64 characters.
NordPass is a project by the same experts who designed NordVPN, the online privacy and security app that enjoys the trust of millions of users.
As a random password generator, NordPass allows you to generate unique passwords by specifying the password length and character combinations you want. It allows you to create passwords of up to 60 characters. The tool is designed to automatically save your password so you don't lose it.
A built-in checkbox allows you to skip ambiguous characters such as O and 0 or I and 1. Also, NordPass can be used online or instantly from the NordPass password management app.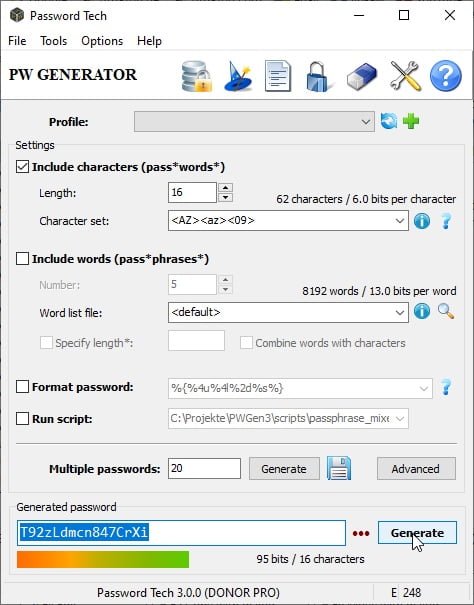 An open source password generator is definitely a more reliable option, and PWGen is one of the most comprehensive open source password generator tools out there. It uses cryptography to generate strong and secure passwords on the client side. You can customize password strength, create multiple passwords, create spellable passwords, and more.
Read More: Top 25 Worst Passwords of 2013 was Impact Adobe Users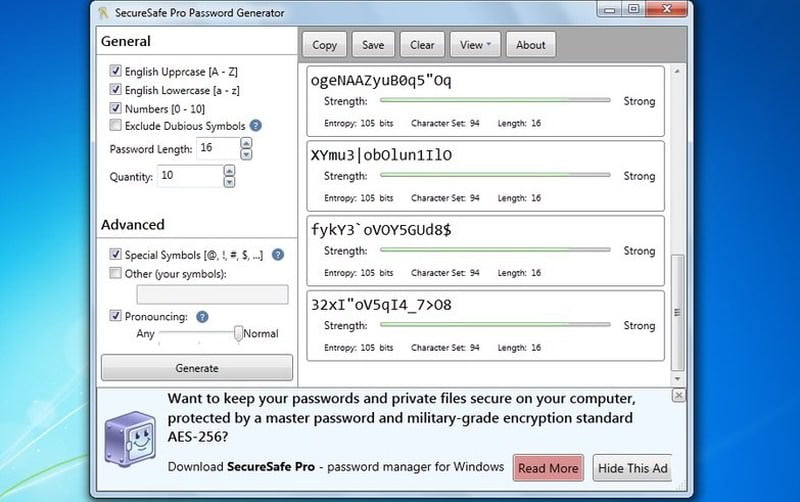 This offering from SecureSafe Pro is easy to use, yet highly functional. Apart from the usual customization options, it allows you to exclude suspicious characters, add your own characters and create pronounceable passwords. There is also a built-in password strength checker to make sure your password is strong.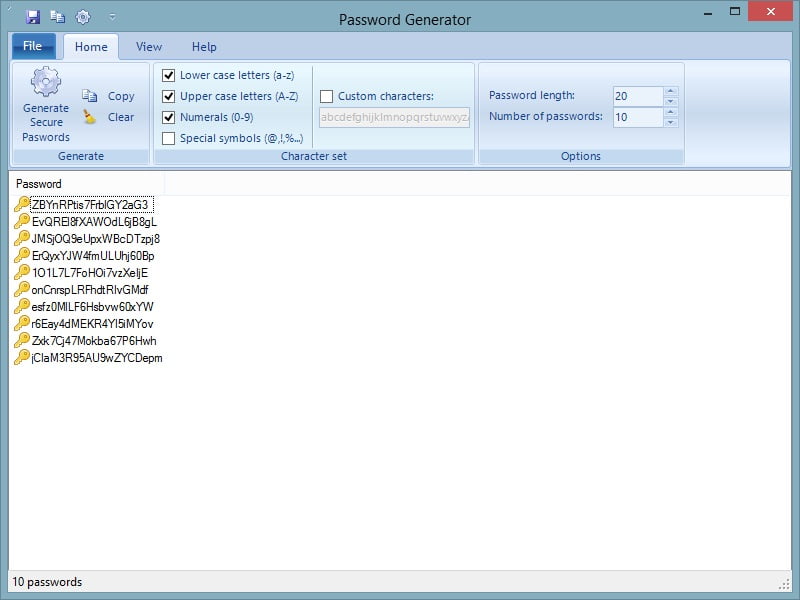 PowerCryptor is a very fast password generator tool that is easy to use and offers all the necessary options. You can customize the content of passwords and specify which letter or characters should be part of the password. This tool is very fast in generating passwords and I was able to generate more than 10000 passwords with results displayed in less than 1 second.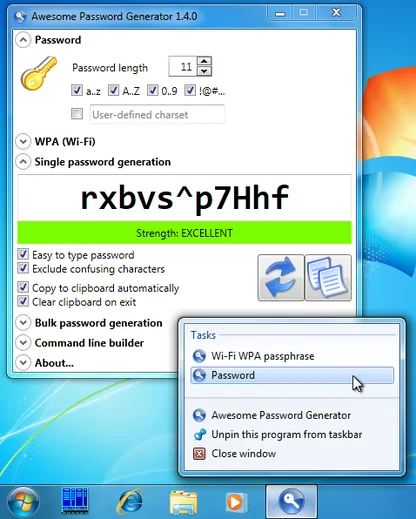 Awesome Password Generator has multiple sections to meet your password generation needs. You can create passwords for Wi-Fi, regular strong passwords, phrase-based passwords, strong character-based passwords and bulk passwords.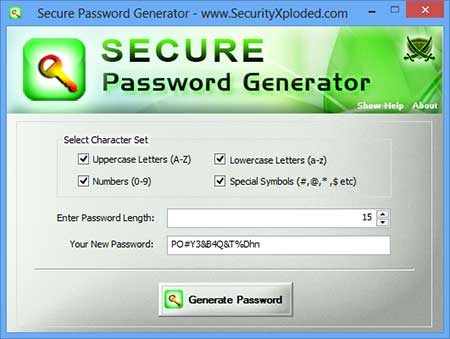 If you are looking for a simple password generator tool that works, this is for you. Secure Password Generator allows you to customize password content and password length, and then generates a password for you. Password is strong and can be trusted.
Read More: The 27 Best Free Photoshop Plugins for Web Designers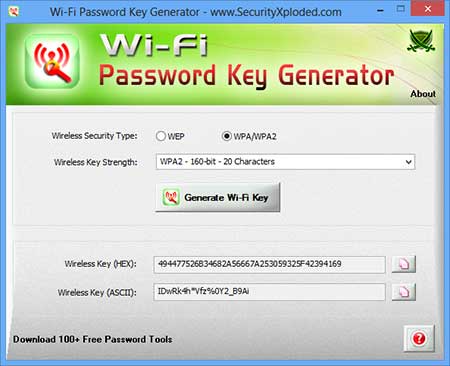 If you want to create a strong password for your Wi-Fi network, this is the best tool. It provides options to generate ASCII and HEX keys for WEP, WPA and WPA2 Wi-Fi security methods. You can get up to 256-bit keys for WEP and 504-bit for WEP2 security.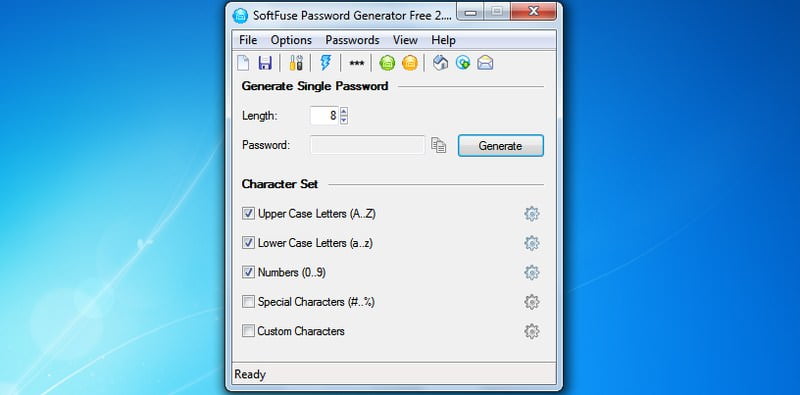 Like the other tools on this list, SoftFuse Password Generator gives you the option to customize your password. However, it goes a step further by giving you the ability to add or omit characters as per your need. You can customize letters, cases, numbers and letters.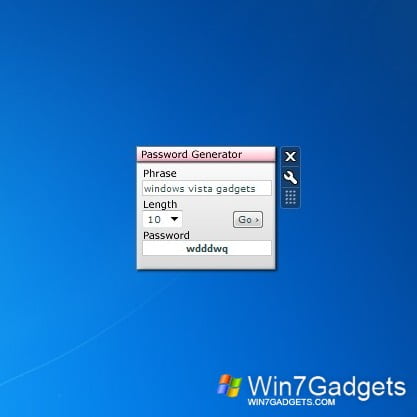 It is actually a Windows gadget that allows you to quickly create passwords in conjunction with other Windows gadgets. In its compact interface, it allows you to configure the password data and the correct length of the password. Definitely a good solution if you need to generate passwords frequently.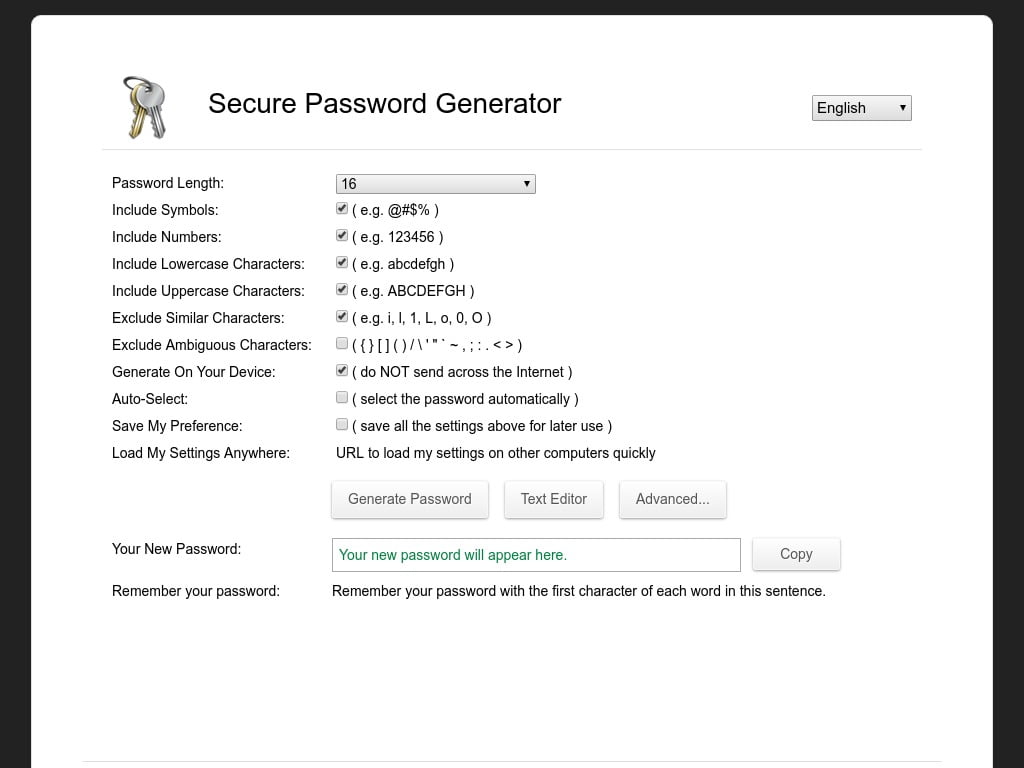 Not to be confused with Strong Password Generator, Strong Random Password Generator is a unique password generator that can generate passwords up to 2048 characters.
When you generate your passwords with this tool, the program automatically generates a unique note that you can easily remember. So, your passwords will be hard for accidental and hackers to crack, but easy enough for you to remember.
Bonus features include a password reminder tool and a written guide on how to protect your online privacy.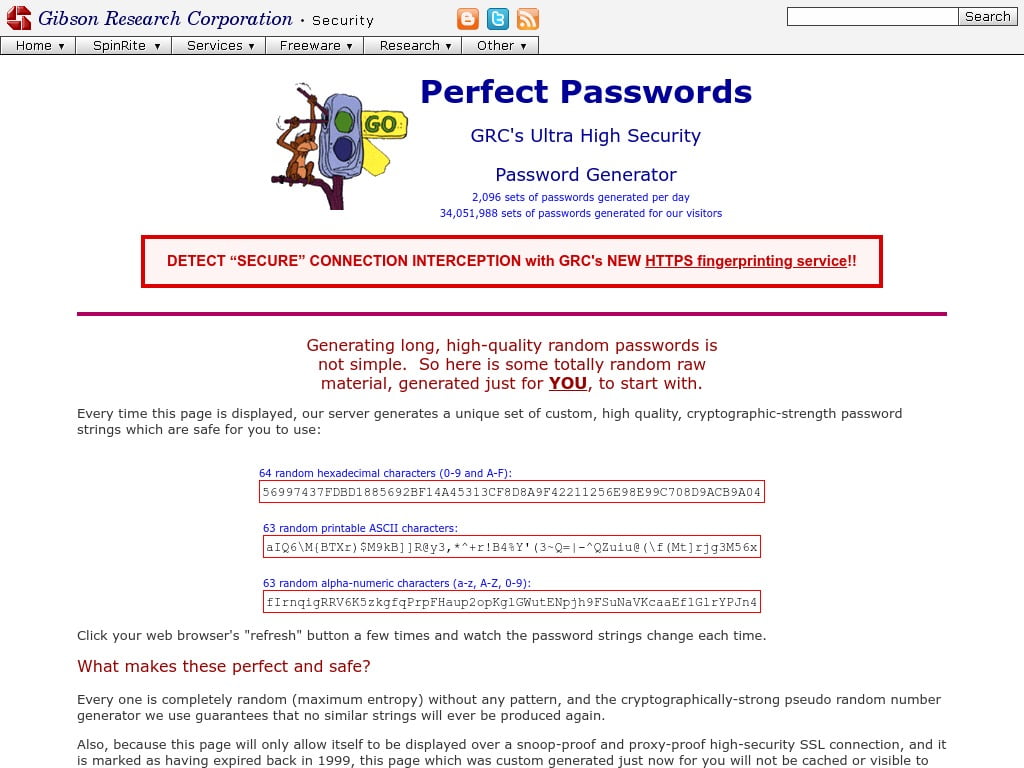 Perfect Passwords is a project of Gibson Research Corporation, founded by world-renowned software programmer and security expert Steve Gibson. This password generator has been enjoying an industry presence for over a decade, which speaks volumes about its reliability.
Perfect Passwords implements powerful password generation algorithms to generate nearly perfect, hacker-proof passwords. In Perfect Passwords, every time you refresh the site, it generates a new batch of random passwords.
There are three options available there, namely:
First one is 64 hexadecimal character passwords, which include numbers 0-9 and letters A-F,
Nest 63 printable ASCII characters, which includes almost every letter and symbol, and
Last one is 63 alphanumeric-only character subsets, including the letters A-Z (uppercase and lowercase), as well as numbers 0-9
Read More: The 25 Worst Passwords of 2014, Including '123456'
Many password generators come with all fancy names. Strong Password Generator may not be creatively named, but it still gets the job done. The tool's interface is as simple as its name suggests, making it easy for beginners to figure out.
A strong password generator generates passwords locally on your computer, so you don't have to worry about those passwords being stored online or on the software's servers. Like many of the password generators on this list, this tool lets you specify the length and character set of your password.
The best part is that your passwords can be as long as you want.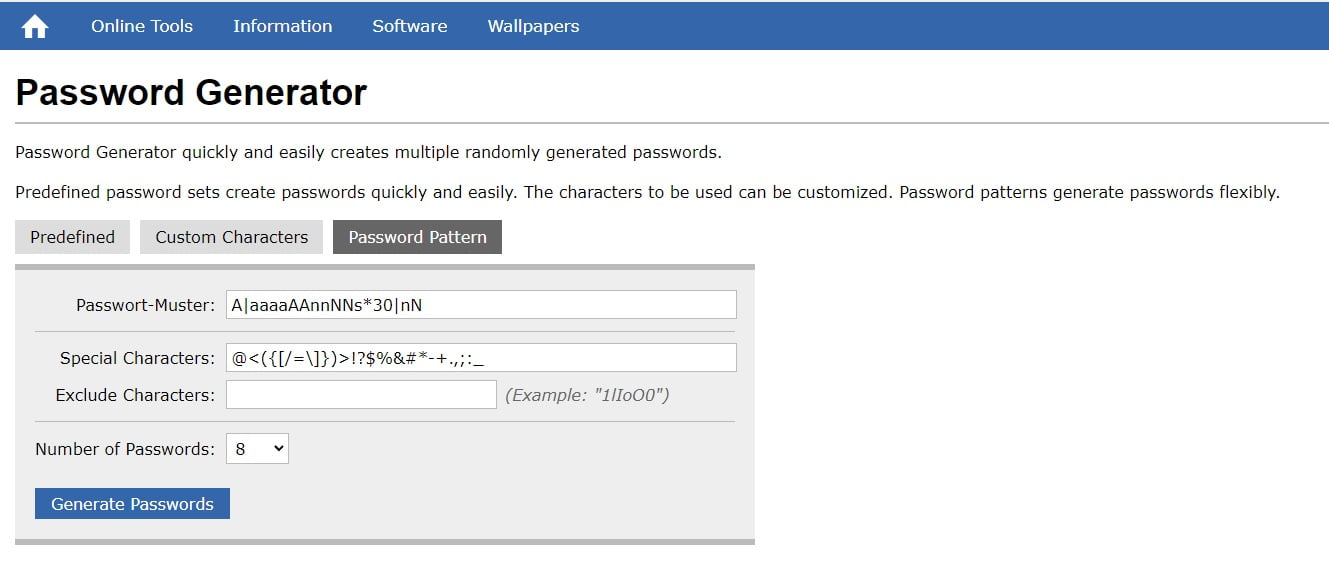 Gaijin Password Generator is a highly customizable password generator which has two sections for generating simple and complex passwords. You can customize which characters to include or omit and create templates for different applications. It includes built-in password strength checker to check your password strength (a reliable one I must say).
LastPass is one of the top-rated password generators, renowned for its ability to generate passwords of up to 50 characters. After creating your password using LastPass, you can go even further and customize it based on its difficulty. You can make the password too random or too easy for you to remember.
Another great feature of LastPass is its mobile friendliness. Whether you use it on your PC or mobile device, the tool retains its sleek design and performance.
However, you need to upgrade to the paid versions of LastPass to enjoy its advanced features.
Read More: 3 Simple Steps To Make Your Files Hack-Proof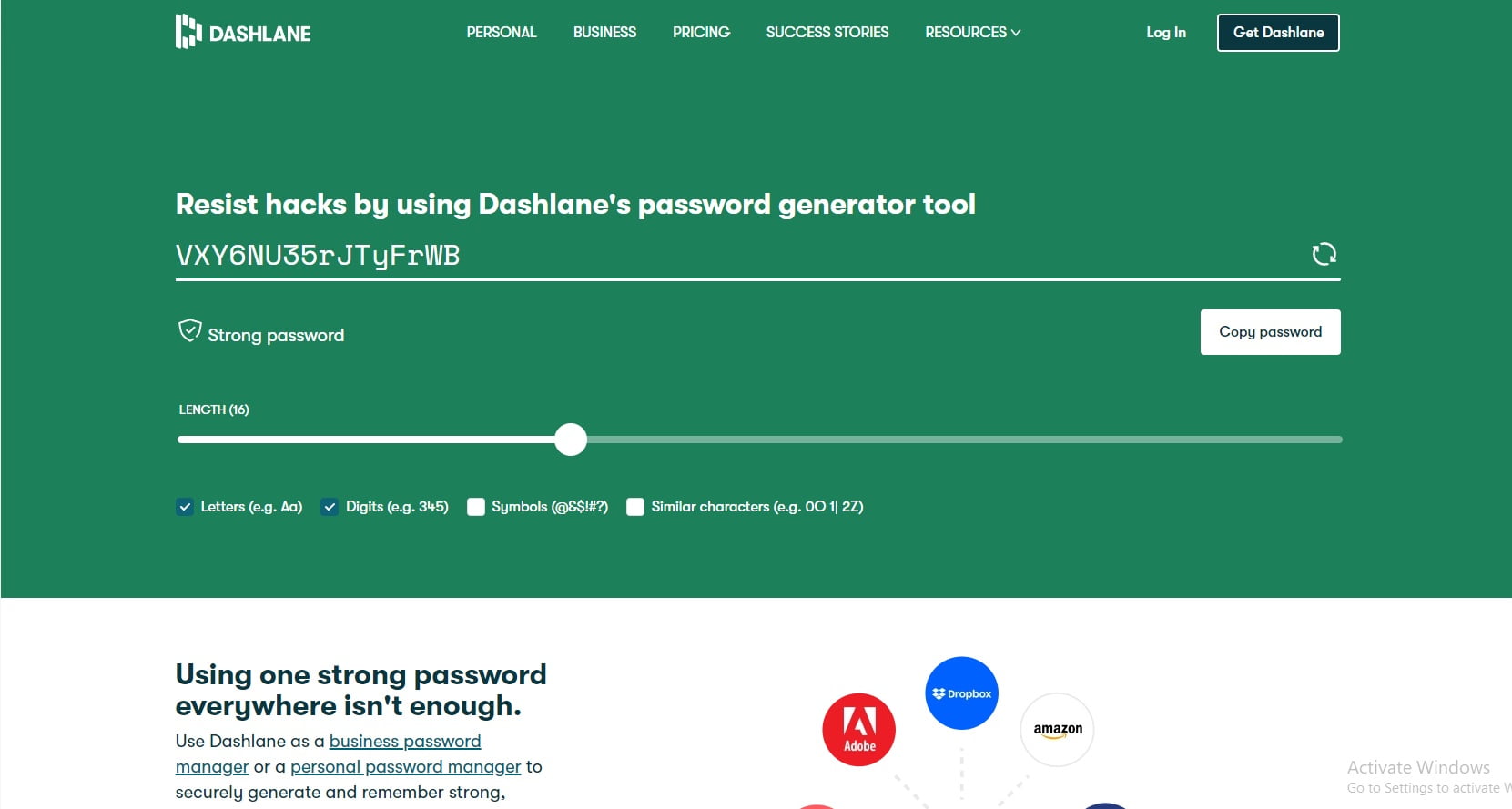 Dashlane is another fast and reliable password generator that works both online and in app tool. The tool is incredibly fast and allows users to specify their desired password length and the type of characters they want to use.
Dashlane can generate passwords from 4 to 40 characters and supports numbers, letters, and symbols. When creating your password, you can seamlessly gauge its difficulty level using Dashlane's interface, where red represents weak, orange represents medium, and green represents strength.
Exporting passwords generated by Dashlane is also easy, thanks to the tool's one-click copy feature.

KeePass is an open source password management tool that comes with a built-in password generator. Due to the relative difficulty of setting up, the tool is not the best recommendation for beginners. But once you learn the ropes, there are many more advanced password management features to enjoy.
You can choose from a wide collection of predefined password sets or create your own password from scratch. You only need to specify a valid password combination, such as whether the combination should contain upper and lower case letters, numeric values, or special symbols.
And not to mention, all those features are available for free.

SafeInCloud is a free software to manage and store passwords. First you need to configure a database or download it from the cloud. By clicking on the generator button, a password will be generated where you can select the option to customize your password. You can select the character option to create a password from memorable, letters and numbers, random or numbers only options. You can select the password length using the slider. Expected password time is also displayed below the generated password. Finally you can copy the generated password to the clipboard. Here you can store and manage passwords of different accounts and store them in the cloud.
Image by rawpixel.com on Freepik