Today, Buffer introducing a useful new feature — the ability to pull RSS feeds into its dashboard. Buffer is one of the most popular social media scheduling and analytics tool for managing social media accounts.
The new feature will be available today for paid customers of Buffer. It will allow users to add RSS feeds to Buffer social profiles and share links directly from favorite sites from right inside Buffer dashboard. Buffer belief this makes sharing on social media a simpler, smoother, and all-around better experience for users.
Setup, Manage, Edit and Delete for Any Feed You Want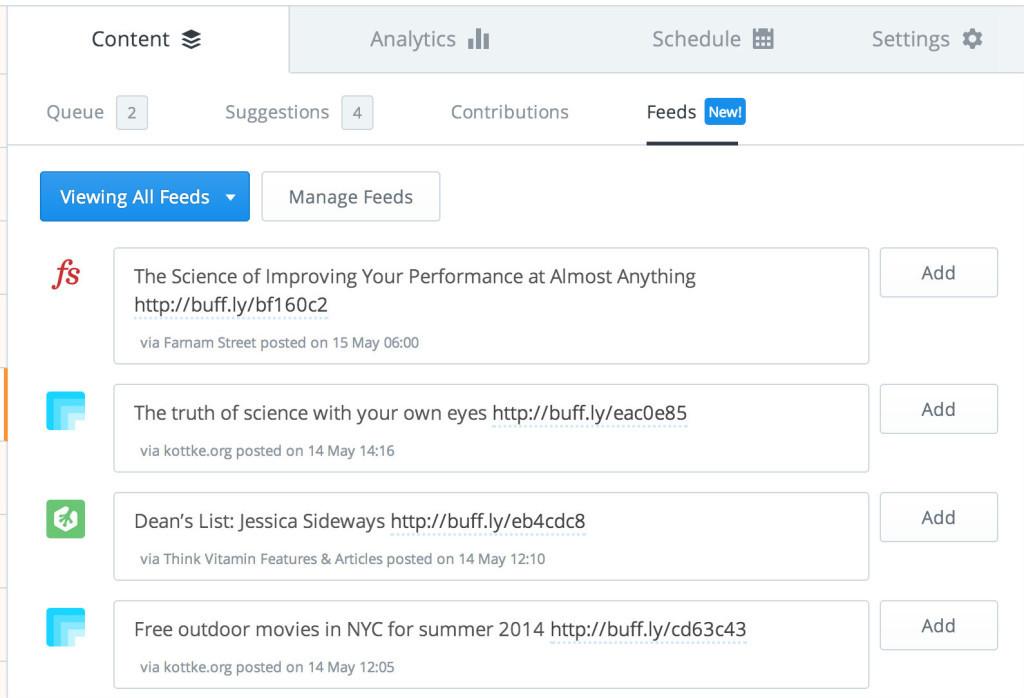 To set up your feeds, simply type in the name of the site and choose which feed you want from the corresponding list. The search bar works with direct feed URLs, too. You can grab the feed from any website or blog then copy it to your clipboard and paste it into the Feeds search bar inside your Buffer dashboard.
After you've added your feeds, you can head to your feed management tab at any time to change and edit which ones you have connected. Click on the "Manage Feeds" button to bring up an overlay with all your chosen feeds and a spot to add even more.
Click on the Remove button to take a feed away. After type in a new website to find a new feed to add there's no limit to the number of changes you can make.
Plan
Awesome ($10 a month) users enjoy one feed per connected social profile and Business $50 a month users will have access to up to 10.
For more details please visit official buffer blog