The end of summer is fast approaching. This is the perfect time to update your collection of fonts. With this in mind, we've rounded up the new awesome free fonts from around the web to get you started.
Recently, I published The 75 Best Free Fonts for 2014; I hope it should be an excellent resource for you. At the same time, it is one of the most popular articles in my blog. Through this article, I thank my audience and readers for doing to achieve popularity.
New fonts are constantly being released that make us inspired, curious, excited and sometimes a little bit jealous. Today we're showing you our favorite new collection of free fonts. These fonts are specially gathered for graphic designers. We are really thankful for font designers; they released mostly fonts as commercial use.
Hans Kendrick was designed by creative designer Alfredo Marco Pradil. It is a geometric grotesque typeface available in two styles such as regular and bold, both of which are great for headlines, posters, logos, and more. Alfredo Marco Pradil generously offers a beta regular weight of Hans Kendrick as a free download.
Azedo is a free uppercase font featured by regular shapes, provided in light and bold weights. The font is developed by Portugal-based graphic designer Pedro Azedo. The Azedo font was a personal project, created off the back of the new identity Pedro created for himself.
Along with the Material Design guidelines, Android Visual Designer Christian Robertson released a new version of the Roboto type family. The new Roboto still keeps much of its character that made it successful for both phones and tablets. However, almost every glyph has been tweaked and updated in some way. Their addresses the decision to release the updated version of this font without changing the name:
The old model for releasing metal typefaces doesn't make sense for an operating system that is constantly improving. As the system evolves over time, the type should evolve along with it.
Hanken Rounded is a geometric sans-serif font created for the guys at Hanken Design Co. The font is designed by Alfredo Marco Pradil.
Sinkin Sans is a simple, pleasant, elegant and easy to read sans-serif font. It is available in 9 different weights with corresponding italics, creating a printing font that's as versatile as it is legible. The font is designed with tiny, sensible notches that sink into verticals at the intersections of strokes and adding highlights to congested corners.
L'egoist Corbeau is a cute free font inspired to Paris and to art deco. The font is developed by Argentina-based graphic designer Louis Blanc.
Designed by Jean M. Wojciechowski, Axis is a free sans-serif font inspired by the geometry of urban environment. The font is perfectly suitable for your design project.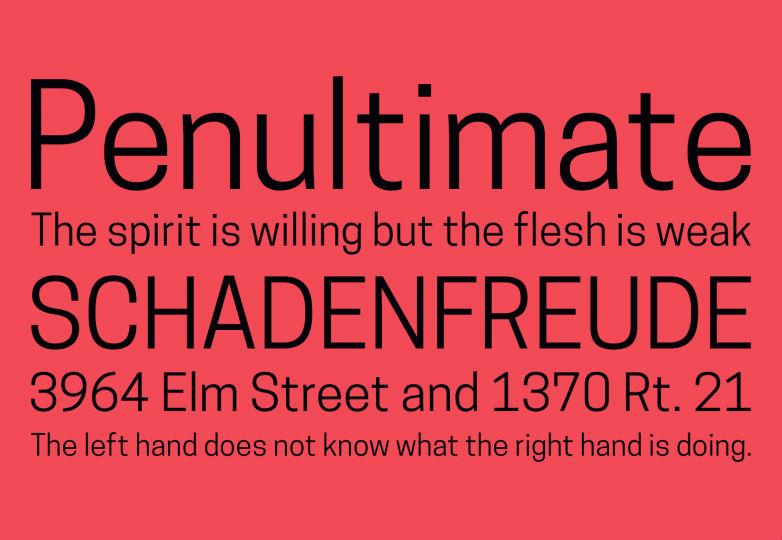 Cooper Hewitt is a contemporary sans-serif font with characters composed of modified-geometric curves and arches. The font was initially commissioned by Pentagram to be an evolution of the Polaris Condensed typeface. While in development Designer Jenkins, decided to start from scratch and create an entirely new digital form. "Instead of building on the Polaris structures, I drew everything from scratch, using the existing forms as a rough guide for letter widths and master-stroke thicknesses," said Chester Jenkins.
Ronduit Capitals Light is an elegant modular display typeface by Ivan Filipov. The font is suitable for logo designs, record label logos, electronic music party flyers, and pretty much everything that needs to convey the message of technology. Ronduit Capitals Light is free for personal use only.
Squares is a simple and clean octagonal and square fonts in 10 typefaces designed by Jovanny Lemonad. The font has unlimited opportunities it is perfectly suitable for text, logos, branding, web design and many others.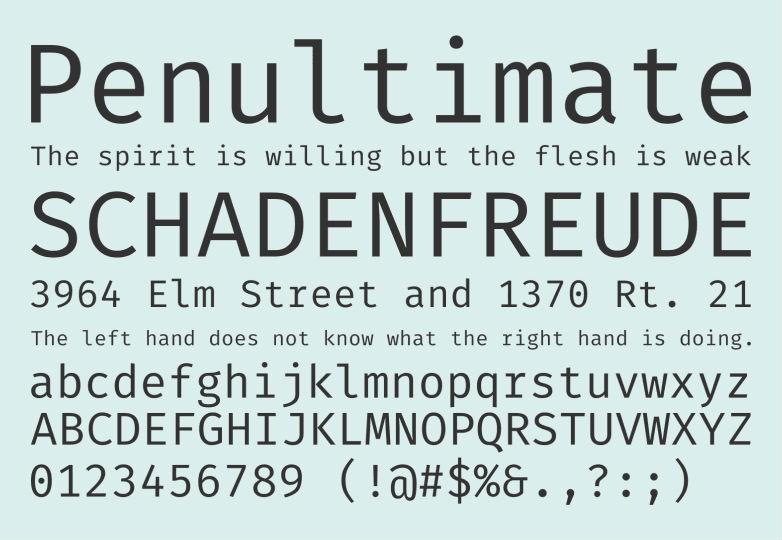 Fira Mono is available for free in both regular and bold weights. The monospaced companion to Mozilla's Fira Sans Serif with four weights, released earlier this year.
S-arial is a free font created "slabbing" Arial font and available in TrueType format. The font is designed by graphic designer Zoltán Zeman.
Raw Font is a typeface font designed by Noe Araujo. The font comes with a TTF file that can be installed very easily. And also it can be used to enhance typographic details in your projects.
Brig is an uppercase free font available in two styles like regular and alternative. The font is developed by Portugal based designer Filipe Rolim.
Unveil free font is perfect for that surprise party, baby shower, block party invitation you're working on. And also use it for a logo or a t-shirt design. This vector font comes in five different styles that allow you to layer them any way you see fit. The font is designed by Tré Seals
.
Bear & Loupe is a free handwritten font family including 3 weights (bold, regular and light). The font is perfectly suitable for headlines of all sizes, logos, badges, print graphics, t-shirts and other designs. And also it is absolutely free for personal and commercial use, designed by Rachid Aitouaissi.
Parker is a free hand-drawn font that consists of capital letters, numbers, and some symbols. The font is designed by James Lafuente.

Nord is an OpenType font that comes in four weights (Bold, Light, Medium and Regular) and which included Cyrillic as well as Latin characters. Free for both personal and commercial use, created by Alex Frukta and Vladimir Tomin to celebrate the launch of the Nord Collective, their new motion design studio.
Anders is a geometric font that was an experimental project by UK based creative advertising student Tom Anders Watkins. "Using influences from modern font design, I wanted something very minimal and a little unique, here's the result," Tom Anders Watkins mentioned on Behance. Anders is free for both personal and commercial use.
A bold, clean typeface, Atletico is great for any sports-themed design. The font is designed by type designer Sascha Timplan and art director Lukas Bischoff. Atletico is available as a free download for personal use only.
Building is a free font in style "deco" with strong visual impact. The font is designed by Italy based "advertising techniques" student Leonardo Gubbioni.
Aventura is a free font inspired to nature and camping life. The font comes with a full set of uppercase letters, numbers and a selection of special characters. It is free for commercial and personal use. Aventura was created by graphic designer Jimmy Kalman.
Anke is a geometric, simple yet legible sans serif typeface, provided in uppercase, lowercase and diacritic characters. The font title comes across the credit of The Bauer Type Foundry and a common German girl name. Anke was designed by designer Noe Araujo.
Uni Sans Free consists of 4 font weights (thin, thin italic, heavy, heavy italic) from our well known best seller Uni Sans. The font is designed by Svet Simov, Ani Petrova (cyrillic alphabet), Vasil Stanev (font development).
Tropicalia Brush Typeface is an experimental free font. The font was designed by Rocco Barbaro.
Composition is a quirky little handwriting typeface by Noe Araujo. This font is free for both personal and commercial use.
Boomtown Deco is a free font inspired to Oklahoma City that flourished in the early 20th century due to the discovery of oil. The font is designed by Chris Skillern.
Vanity is a modern, sans serif type family, includes 12 fonts, including light, bold, plain, italic, narrow and wide. The font comes complete with a full set of lower and uppercase letters and numbers. Vanity is created by French graphic designer Hendrick Rolandez.
Viro is a sans-serif typeface, slightly condensed and with subtle rounded edges. The font is suitable for almost any purpose from headlines to body copy. This font comes with uppercase and lowercase letters, symbols, numbers and accented letters.
Ostrich Sans is a popular free font that medium style has been improved including fixed characters (that "y" especially) and kerning adjustments. The new heavy style is a thicker, rounder version of OS. Ostrich Sans has more language support than ever and is all caps much like the rest of OS. The font is designed by New York based designer Tyler Finck.
Olinda is a free font designed by Portugal based designer Luís Paulo. The font is inspired by the specific style of Victorian architecture. Generally, it is found all over the globe, still is mostly based on the typical Victorian houses in the UK.
Jaapokki is a free font including 2 styles and a large set of glyphs. The font is designed by Mikko Nuuttila.
Thin Line is the first font from designer Gatis Vilaks. Thin Line Font is a free typeface featured by round curves and an elegant look. The font comes complete with a full set of upper and lowercase characters and numbers.